As the cycle of time whirls on, we are overjoyed to release for your listening pleasure…
STELLAR IGNITION
Our first complete album, recorded at Avalon Digital Recording Studios in San Luis Obispo, CA Chumash Territory.
Keeping with the timing of our single releases, "Stellar Ignition" will be released in waves:
:: Summer Solstice :: Monday June 21 2021 :: Ditital Online Release
:: Fall Equinox :: Wednesday September 22 2021 :: CD Release
:: Winter Solstice :: Tuesday December 21 2021 :: Vinyl Release
Virtual Liner Notes
Extending our Gratitude and Appreciation to Everyone who Collaborated!
Astonishingly talented individuals dedicated countless hours of creativity to this project, bringing these songs into manifestation with brilliance! Thank you, thank you, thank you…
Brian Aunger: Recording Engineer
Timo Beckwith: Album Art
Griffin Breshears: Mastering
Billy Clayton: Producer, Recording Engineer, Mixing, Vocals, Rhythm Guitar, Album Art
Charlotte Ellis: Cello
Mike Flactiff: Congas, Percussion
Chad Hoffmann: Bass, Double Bass, Banjo
Talia Ortega: Flute
Gillian Piper: Vocals
Anthony Roselli: Vocals, Drums, Harmonica
Robyn Saxer: Producer, Vocals, Keyboard, French Horn, Ukulele, Percussion, Melodica
Kip Stork: Recording Engineer
Jeff Steinmann: Lead Guitar
Album Release Show: Friday 6/25!
Celebrate our album release and our return to the stage this Friday! We would be honored by your presence!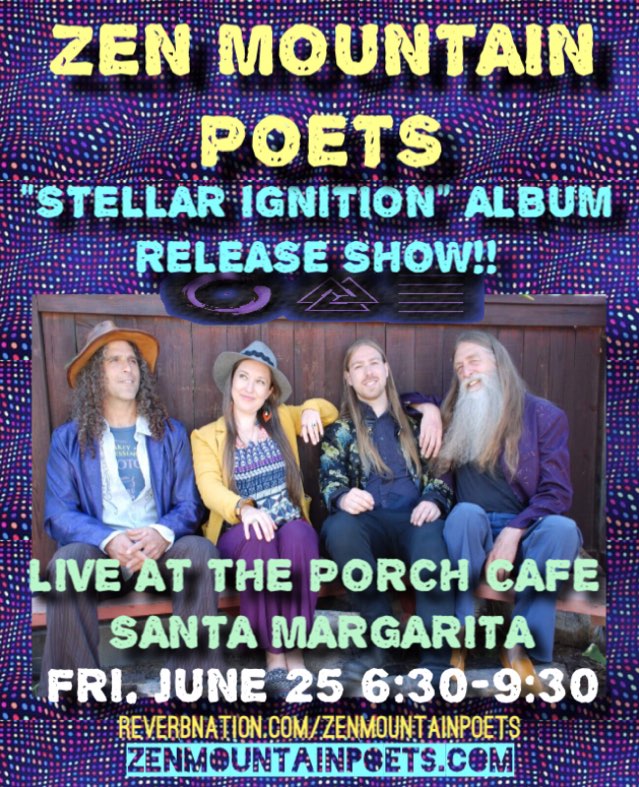 It Takes a Village
We've been looking forward to releasing our music into the world since this band started forming 8 years ago. The loyalty and support of our friends, family, and fans continues to amaze and inspire us; thanks for sharing this journey with us!
With Radiant Love,
Zen Mountain Poets